Following several point releases that introduced a sticky post filter, integration with WP_Term_Query to make terms searchable, a related posts Gutenberg block, and an integrated WooCommerce default filter by price widget, the release of ElasticPress 3.5 delivers two exciting new features that uplevel onsite search capabilities and improve user experience: a synonym dashboard and search term result highlighting.
Synonym Support
A brand new synonym dashboard makes it easy to associate different but related words — like sweatshirt and hoodie — to improve search result quality. The Manage Synonyms Dashboard, empowers site managers to quickly create, edit, and delete two types of synonym groupings:
Sets: A group of equivalent terms, such as types of streets in an address or cities and city abbreviations — i.e. New York City and NYC.
Alternatives: A group of terms where the listed terms are equivalent to the primary term but not to each other. For example, search results for the primary term shoes should also include results for sandals, sneakers, high heels, wedges, etc. but search results for sandals should not include the results for sneakers.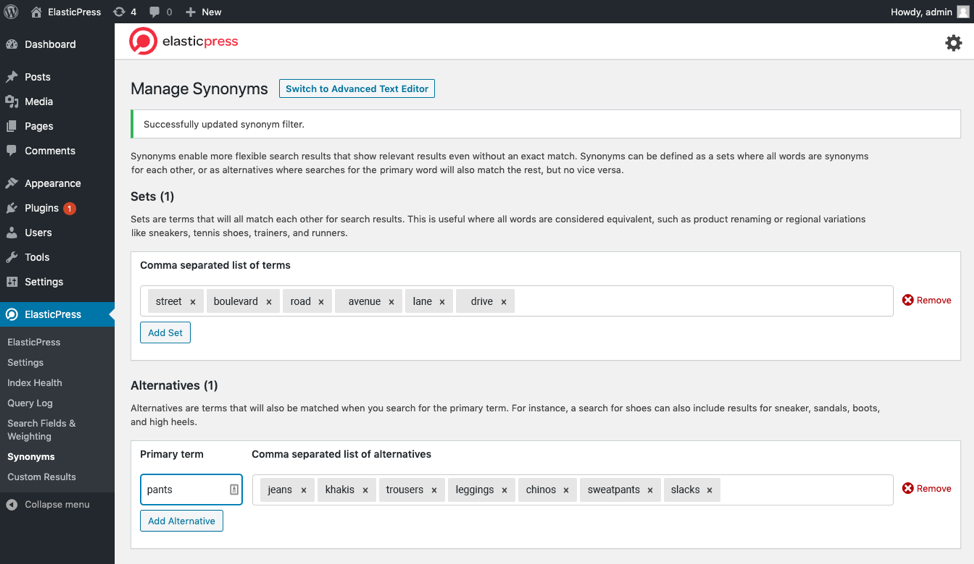 Synonym support enables the fine-tuning of search results, including the management of misspellings, which can boost engagement for content creators and help WooCommerce sites provide more accurate and relevant search results to shoppers.
Search Term Highlighting
With ElasticPress 3.5, search terms will automatically be highlighted in search results listings. Search term highlighting helps visitors see exactly where, in a document, search results match the search query by underlining keywords within content. A new CSS class applied to highlighted keywords enables customization of the visual appearance to match a site's design.
Additional Enhancements
With this release, ElasticPress now supports Elasticsearch through version 7.9. Other improvements include improved WP Acceptance tests for new code releases, a new filter for prepared user meta data, and a handful of under the hood bug fixes and code improvements.
For the complete list of enhancements and fixes included in this release, view the changelog. To see what we're up to and share feedback, visit the ElasticPress GitHub repository.
Let Us Do The Heavy-Lifting
Elasticsearch regularly releases updates and enhancements. To avoid potential conflicts and errors, test new releases in a development or staging environment — or better yet, try ElasticPress.io and let us do the heavy-lifting for you! Our cost-effective, end-to-end solution offers a variety of tiers perfect for WooCommerce stores, agencies managing multiple customers, and enterprise-level clients. With ElasticPress.io, you can take full advantage of ElasticPress without maintaining Elasticsearch — or breaking WordPress.
Contact us for a personal demo or start your free trial today.
We're always looking to add new talent to our team. If ElasticPress and our open-source work pique your interest, swing by our Careers page and get in touch.